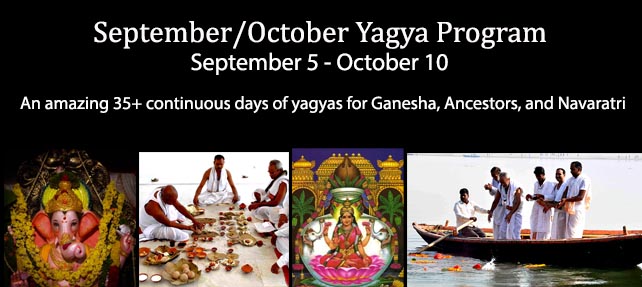 September and October are always a busy time for yagyas. This year is especially active with three traditional 10 Day yagyas from Sept. 5th through mid-October..
In the Vedic tradition, the dates of special and auspicious days are calculated astrologically. This year the Ganesha Chaturthi yagyas take place just before the Ancestor Yagyas, and they are followed immediately by the Navaratri Yagyas.
We are going to join them together into one big 35+ day yagya series. You can participate in all of them or only the parts you want. It is a great month and a great program. Join us!
All the program details are here. You can sign up for any of the three programs.
Or use the following button
to sign up for all three programs for the price of two and save $65.
---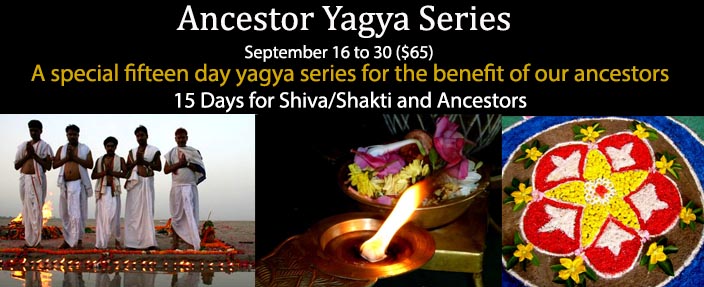 This month, we are continuing the tradition of performing a special yagya for the benefit of the previous generations of our families. This ritual is ancient, dating back many thousands of years in the vedic tradition.
The idea is a simple one. The vedic tradition includes reincarnation as the experience of multiple lives during which the soul evolves to greater purity and perfection. Families are an important part of this evolution because each generation provides for and protects subsequent generations. The Shraddha ritual is one in which we honor and symbolically feed and provide for the sustenance of previous generations of our family.
Complete information and signup is available here.
---
Navaratri honors the Divine Mother in the form of Durga, Lakshmi, and Saraswati, who represent Power, Abundance and Wisdom in their most powerful and charming forms.
Each day, our priests perform an elaborate Chandi (shakti or goddess) yagya from 7 AM to 1 PM, followed by 2 hours of evening pujas when the Chandi Path Goddess Mantra text is recited along with the 1008 names (Sahasranam) of Lalitha; the most beautiful form of the goddess.
The final day, Vijaya Dashami, will feature special pujas for Saraswati who is honored on this day of victory, symbolic of the victory of light over darkness and joy over suffering. These yagyas are profoundly purifying and eliminate old stresses and bad karmas. As a result life is lived with more freedom, happiness and satisfaction.
Complete information and signup is available here.
---
Photos from this month's Ganesha Yagyas
(for all photo galleries please click here)