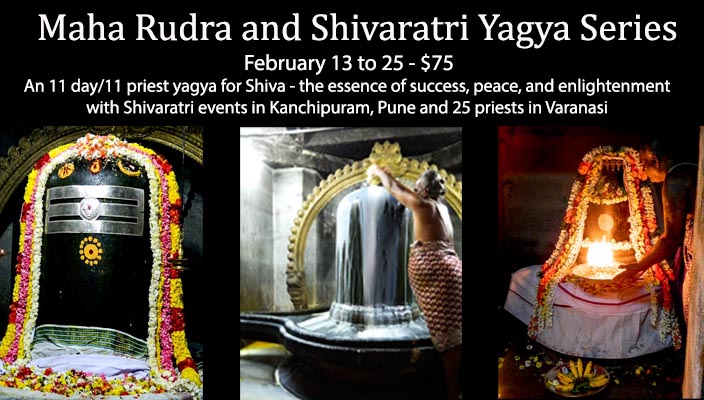 Maha Rudra and Shivaratri Yagya series
for success, peace and enlightenment ($75)


Including a 50 priest Lakshmi Yagya (2/20-23),
Shivaratri yagyas in Kanchipuram, Pune (50 priests), and Varanasi (25 priests), followed by a special cooling Ganga Yagya on the banks of
the Ganges River in Varanasi the day after Shivaratri.
Maha Rudra and Shivaratri Yagya Series ($75) Feb. 18 thru Feb. 28

The complete series of yagyas beginning with a 1008 offering Ganesha yagya, followed by the 11 day/11 priest Maha Rudra yagya. This will also mark the completion of our year long Ati Rudra Yagya of 14,641 repetitions of the Sri Rudram hymn from Yajur Veda. The final day includes a complete Rig Veda Soma yagya.
Additional yagas will include a 2 day, 50 priest Lakshmi Yagya in Pune. On the night of Shivaratri, yagyas will take place in Kanchipuram, 50 priests in Pune, and a 25 priest yagya in Varanasi (Shiva's city) followed by a 15 priest cooling yagya for Ganga in Varanasi.
Please join us and enjoy the yagya blessings!
Complete information and signup is available here.
Or sign up directly using the button below:
After you have made payment for the yagyas, please click here
to enter names and birth data for you and the members of your family.
---
To learn more about this important Vedic ritual and the traditions associated with it, please click here. You will find a complete explanation of the festival, plus links to yagya videos, text and translation of Sri Rudram and Chamakam - the Vedic texts used in this ritual. Also available are 10 podcasts on Shiva and an MP3 library of over 100 Slokas and Hymns to Shiva as well as the full recitation of Rudram and Chamakam.
---
Photos from the December Family Yagyas
(for all photo galleries please click here)