Ten Day Sarva Devata - Family Harmony Yagya
($65 for the entire family)
Our Sarva Devata yagya program this month will invoke and honor the family of gods and goddesses (sarva = all, devatas = gods and goddesses) as a means of supporting and enhancing the lives of our own family both spiritually and materially.

Each day of the program will feature a different yagya for a different aspect of divine intelligence according to the following list.
Ganesha - to remove obstacles to success and spiritual insight
Shiva and Parvati - for a happy family, good health and rapid progress towards enlightenment
Subramanya - for strength and dynamism
Saraswati- for the power of purity and wisdom
Vishnu - for health and and the protection of our dharma
Lakshmi - for all aspects of wealth and abundance
Hanuman - for strength and protection
Sudarshana/Narasimha - for protection from and power over our enemies, supporting family harmony
Navagraha (nine planets) - for balance and elimination of negative karmas
Pavamana Soma - for health, enlightenment, and protection from negativity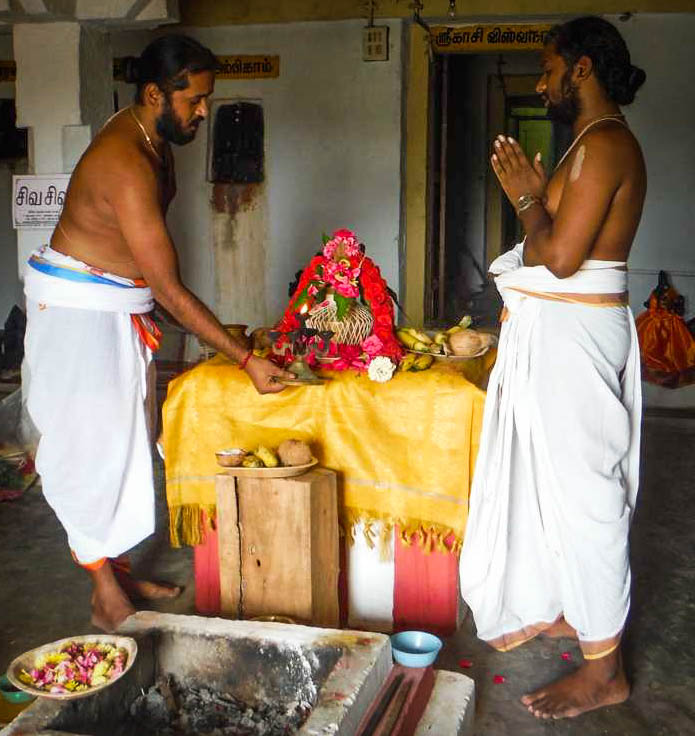 In a practical sense, this series will strengthen family ties, reduce tension among family members, and will support long term health, success, prosperity, and of course, enlightenment throughout the upcoming year.
The focus of this month's yagya program is to touch on every aspect of life, spiritual and material.
In the vedic tradition, Kanchipuram is an exceptionally potent place for yagyas to be performed. The temples are ancient and contain the power of countless years of mantras, pujas, and yagyas.
Our program will take place in a beautiful private temple in which all the gods and goddesses are represented, making this an ideal spot for our December program.
Please join us!
Further details are available by clicking here.
Family Yagya Series
($65)

Credit Card
PayPal
You will be able to enter your family details when you check out.
We retain the family names securely and you can update or delete them at any time.
---
---